How long have you dreamed of your prefect wedding dress? When you were five, did you put on your mom's makeup and hang a pillow case on your head like a veil? Did you make your best friend play the groom? Did you dress your cats up in bridesmaid outfits and take pictures? Come on, don't lie…
As a woman, I know how important it is to feel confident in whatever you're wearing. Your wedding is the one day that you can be the center of attention and be unapologetic about it. This is your "LOOK AT ME!" day, and no one can make fun of you for it. You're going to pay a photographer a lot of money to take your photo all day long. This is why the perfect style and fit of your wedding dress is so important.
A dress with sleeves made sense for Katie because She and Zac had an elegant, classy indoor spring wedding with a church ceremony and ballroom reception. It's very difficult to find a wedding dress with sleeves, because the majority of them are strapless or sleeveless.
Katie fell in love with everything about this dress except the fact that it was strapless.
The very talented tailor at Trudy's Brides & Special Occasions in Campbell, California, worked magic when she added these sleeves. It looks like it was the original design. Katie's custom wedding gown was the PERFECT fit. She is a demure woman – sweet, quiet, and modest. If she lived in the South, they'd call her a Southern Belle.
This is my current fave among all the wedding dresses I've photographed. It reminds me of Kate Middleton's gown, so elegant and regal. Of course I'm in love with the top because of the sleeves and the lace, but my fave part is the ballgown skirt. It's dreamy! It goes swoosh-swoosh when she walks! It's soft and pretty and feminine! It really did fit Katie's personality perfectly.
It fit Katie perfectly and she was comfortable. Having sleeves assures that your dress stays up in place. When you wear strapless, no matter how well it fits, you still have to tug it up some throughout the day because they slide down gradually.
Katie put each bridesmaid in a different style of dress, which gives the bridal party a modern look. These dresses are also from Trudy's Brides. They were gorgeous.
The groom really loved the dress too! 😉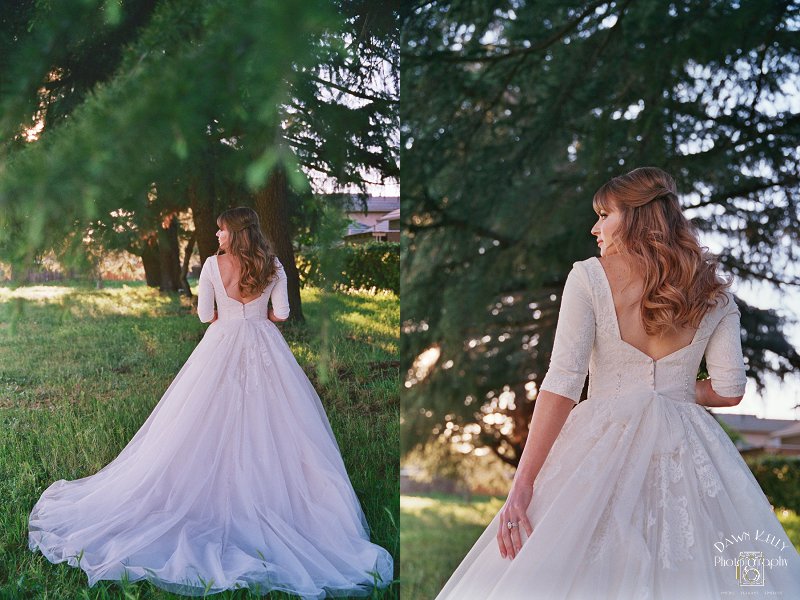 The French bustle was BEAUTIFUL! My fave bustle thus far.