I've known Sara for several years because we did a photo shoot together. We hit it off and have been friends ever since. In the beginning of 2019, I desperately needed a new officiant, and she applied. She had no officiating experience, but she had the perfect personality for it, and I knew she could do it. I needed someone personable, fun, and kind-hearted, and she was all that and more. She has been wonderful and all our clients have loved their ceremonies. She does everything from non-denominational to very religious and anything in between. (She also customizes our Yosemite water bottles, which go to all of our clients!) I know I can always count on her to be honest and hard-working. Not only does she specialize in Yosemite ceremonies, but she also performs ceremonies around northern California. She is available to travel anywhere for your special day.
Q: How long have you been in business, and what got you started?
A: I have officially been performing ceremonies for a year now. In 2019 Dawn Kelly announced she needed an officiant. I thought to myself, "Hey I could do this! I love weddings, so lets try!" I applied, accepted the job offer and now it truly has became my passion. I absolutely love every single part of the new love!  I have now performed just under 30 weddings and 2 memorial services.
Q: What was most attractive to you about starting in this field?
A: I loved the fact that I can be a part of someones special day. I enjoy talking with the couples and getting to know them. That way I can create the perfect ceremony just for them.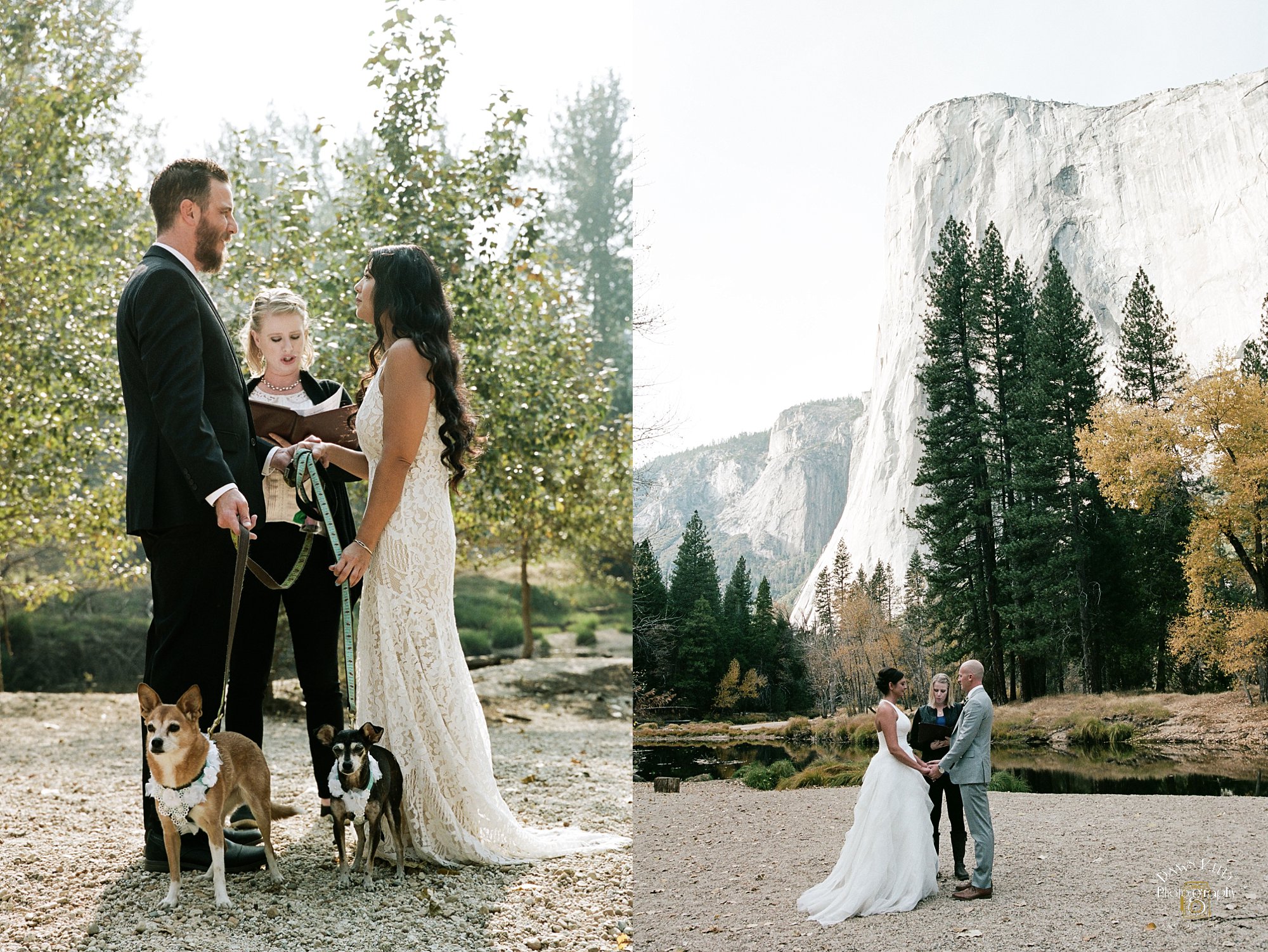 Q: What is your "Why?" in your business? What gets you out of bed in the morning? What are you most passionate about?
A: I would have to say that my "why" is to see the smiles, the tears of joy, the love between the bride and groom as they join their lives together as one. I would have to say I am most passionate about making each and every couples ceremony their ceremony and creating the perfect day for them.
Q: What intimidated you about the wedding industry?
A: Of course Everyone fears the bridezilla! I had to snag Summer's answer. I agree with her 100%. It's also a bit intimidating knowing everyone is listening to every word I am saying so, I have to get it perfect.
Q: What challenges have you had to overcome personally and professionally?
A: I had severe anxiety and stage fright! I was so excited to perform my first wedding then… The night before I literally was sick from the anxiety. The ride to Yosemite that day was the longest ride ever!! Then I got there and it rained!! I didn't have time to freak out about reading the vows because I was too busy trying to get it done quickly in the rain. I survived and realized it wasn't so bad and that I absolutely LOVED it! It is now my passion! Who would have thought!?
Q: What types of jobs are your favorites? What size and style of weddings do you typically do?
A: I don't think I have one certain "favorite." Every ceremony I perform is special, unique in its own way and beautiful! Whether it's a small elopement with just their dogs, or 50 to 100 of their closest friends and relatives, I will love every minute of it.
Q: What are your hobbies and how do you spend time with your family?
A: A few of my hobbies include going to car shows, 1/4 miles racing, and working on hot rods. I enjoy going to flea markets and thrift stores. Always ready for a good hunt! I enjoy making farmhouse style home decor and custom T-shirts. I am known to bake a few custom cakes here and there as well! I love photography! I have two beautiful daughters; they will be nine and eleven this year. They also love photography! We enjoy wandering around cute little towns and taking pictures of anything that captures our eyes. Our family loves to go camping and hang out at one of the many lakes near by. We love arts and crafts in this house! I am also a proud mom to a five-year-old English Bulldog named Anvil, five cats (Momma and currently four week old kittens) and eight chickens. We are soon adding several goats and sheep as well!
Q: Tell us about your recent marriage to the love of your life!
A: I recently married my best friend, my soul mate! We had a summer wedding date picked out and decided we didn't want to wait any longer to become husband and wife and got hitched at the courthouse on 02-20-2020!! We are now very thankful we chose not to wait until our actual wedding date since like many of you, we've had to postpone due to Covid-19. My amazing Groom I've known since we were fourteen years old. We both led very different lives and God lead us to each other in May 2018. From that very day I knew he was my soul mate and I'd spend he rest of my life with him. He is such a hardworking, dedicated man. He truly is my best friend and the best bonus daddy my girls could have ever wished for.