Now that you've decided to get hitched in Yosemite, it's time to decide where you will have your ceremony. The ceremony permit is issued for a specific ceremony location. I've been to most of the ceremony locations listed on Yosemite's National Park web site, so I can tell you pretty much what they look like. According to the rules in Yosemite, if you have ten people or less, including your officiant and photographers, you can have your ceremony anywhere in the park. If you have more than ten people, you have to choose one of Yosemite's official ceremony locations.
First, I'm going to give you a few of my insider tips…
Ceremony Spots I Don't Recommend
Tunnel View
This location is constantly swarming with tourists and photographers. You know those amazing landscape images of Yosemite at sunrise or sunset, and the sky is bright pink and purple and yellow and it pretty much looks like unicorns should be flying overhead? I'll share a secret with you…This is how you make a photo like that:
Set up camera and tripod at Tunnel View
Take one photo every 3 to 5 minutes
Determine best photos
Bring photos into Photoshop
Paste all photos on top of each other
Manipulate photos, playing with layers
Create a composite to make one photo
Dodging, burning, HD
That's right. Those photos aren't real. That having been said, I can't accomplish a composite photo like that. I'm terrible at landscape photography and Photoshop. Don't get me wrong! A real Yosemite sunset is stunning in its natural form. So, when looking at sunrise or sunset photos of Yosemite, ask yourself, "Does this look natural?" You can usually tell.
Tunnel View is simply too crowded and it's too small of an area. You only have one backdrop. (Below) There's zero privacy, which makes a ceremony impossible.
Merced Grove
Oy vey, this location… When Erica and Ryan were planning their elopement, they were aiming to have their ceremony at the base of a giant Sequoia. Sadly, Mariposa Grove was (and still is) closed for renovation. They chose Merced Grove, and when they called the permit office to ask about it, the woman on the phone told them it was an easy twenty-minute hike from the parking lot. So they booked it. About two weeks before their wedding, Mark and I were in Yosemite with Mark's cousin and her new husband, and they wanted to do an easy hike. We decided to go to Merced Grove so I could scout it out and be prepared for Erica and Ryan's wedding.
It was, in NO way, an "easy twenty-minute hike." It was a 45-minute hike downhill, then a one-hour hike back up, and it SUCKED. I hated it. The path was very rocky and rutted. Mark looked at me and said, "How are you going to get gear down here?" Then, I was so disappointed when we got down there and there were only a hand-full of teenage Sequoias. It was clear that the woman in the permit office had never done that hike. It's possible she had never been to the park. I don't know where their offices are located. Plus, no bathrooms, not even pit toilets! Insane!
On Monday I called Erica and explained the situation. I just couldn't imagine a bride walking down that dusty path, then sweating as she hikes back out. Worse, if it rained, we wouldn't be able to get down there at all. We made another plan, deciding on Swinging Bridge, and it was perfect!
My Fave Ceremony Spots
Swinging Bridge
I love this location because it's open year-round, which means you can get married there in the snow! There are several options for ceremony spots. Erica and Ryan chose the small meadow on the other side of the river, behind the trees.
Stats:
Open year-round
Very small parking lot
Bathrooms (pit toilets)
Wheelchair accessible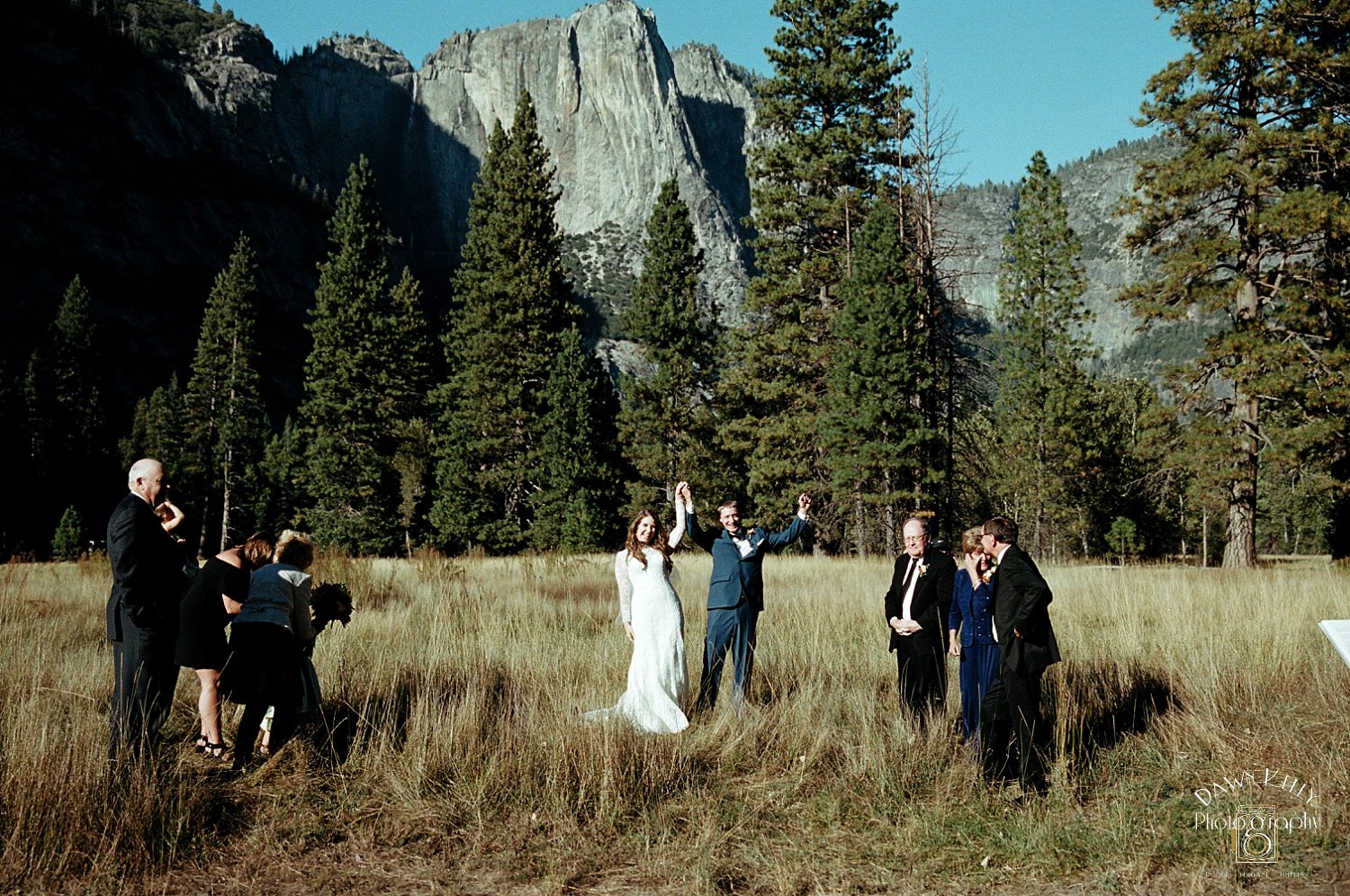 Glacier Point
This is, by far, the most beautiful location. It takes an hour to get up there from the valley, and because of the elevation, it gets snow and the road gets dangerously icy, so it's closed from late fall to early spring. There is more than enough room, many options for backdrops, plenty of private nooks and crannies for an elopement ceremony, and gorgeous photo opportunities.
Stats:
Open late spring through early fall
Large parking lot
Bathrooms (pit toilets)
Wheelchair accessible
Cathedral Beach
This spot is gorgeous! With an amazing view of El Capitan, it's one of the "beach" picnic areas along the Merced River. It has multiple spots for a ceremony and portraits, all completely unique (groves of pine trees, riverbank, pond, fallen tree). The last time I was there, with Amelia and Cody, I got some incredible reflections of El Capitan off the pond, so be sure to sign up for the newsletter below so you get to see those images. I don't have them back from the lab yet. Sorry!
Stats:
Open year round – closed to cars during wet/snow months, but open to foot traffic
Small dirt parking lot
Bathrooms (pit toilets)
Not wheelchair accessible
How to Choose
I know how hard it is to make choices. Every time I work on my web site home page, I agonize over it for hours, eat too much ice cream, and irritate my husband. Here is a simple plan that will help you narrow down your selections.
Narrow down options based on your needs – guest count, accessibility, time of year, etc
Decide how adventurous you are – are you up for a hike?
What landmarks do you want in your ceremony photos? – Half Dome? El Capitan? Yosemite Falls?
How much privacy do you want?
As you answer all these questions, you can start deciding which sites do NOT fit your criteria, and throw those out. When you're done, if you have more than one option left, go with your gut!
All of our Yosemite Elopement Packages include planning. Part of my job is helping our clients plan their elopement beginning to end, so I always help decide on the ceremony location. If you're looking for an experienced Yosemite team, or if you simply have a questions, contact us. I'm happy to help!