Instagram is an incredible tool for wedding planning, but most brides don't know how to use it effectively.  Here are my tips for getting the most out of Instagram, including how to streamline your feed, and which accounts to follow!
Streamlining Your Instagram Feed
With Instagram's new algorithm, it's set up to show you the accounts that you engage with the most, which means that accounts you like, but don't comment on as much, get shoved to the bottom of your feed, or don't show up at all.  So, all those photos of your friends' kids and food pop up at the top, but photographers' and wedding planning accounts get buried.  I recently went through my Instagram and unfollowed about 400 accounts–accounts I'd followed on a whim, or other photographers who followed me only to get a follow back, and general junk I just don't care that much about.  Now, all the super awesome accounts I wasn't seeing before are popping up on my feed.
Now you can set up your Instagram to send you notifications from accounts you flag.  All you have to do is go to the account and click the 3 little dots, then hit "Turn on Post Notifications."
Searching With Hashtags
The search tool is Instagram is powerful.  One hashtag search will send you to another.  Here I've searched #weddingdetails.  The top 9 photos are top accounts that have used this hashtag.  You can click on one and look at their account, and decide if you want to follow them or not.  If you LOVE their account and are inspired by it, turn on their notifications.  (You can turn off notifications at any time.)  At the top, you can see #weddingideas and #weddinginspiration.  Click on those and explore them too.  You can also look for photographers by searching #weddingphotographer, and you can narrow that down by state.  So if I were searching, I'd use #californiaweddingphotographer.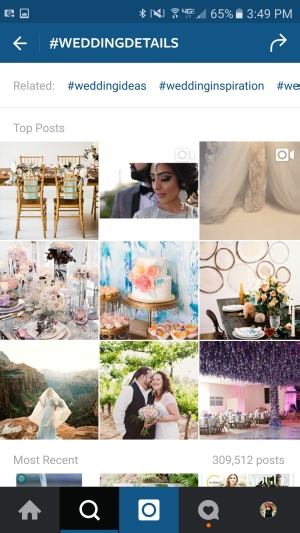 As you can see, there is a LOT of wedding inspiration on Instagram.  You can search #weddingflowers, #weddingdress, #vintagewedding, etc.
7 Instagram Accounts to Follow
I'm going to introduce you to 10 Instagram wedding accounts I love.  You can click right on the photo and it'll take you to their account, where you can follow them if you like.
@etsy has a wide variety of wedding ideas and details.  Amazing cakes, flowers, dresses, shoes, etc.  Click on a photo you like, and the creator's handle is there, which you can follow to their account, and order from them.
@theknot
@weddingchicks has awesome, beautiful wedding ideas, much like @theknot, but there are more how-to's and tutorials on @weddingchicks
@tome____ has the most beautiful cakes, and unique flavors I've seen in a LONG time. It'll inspire you to choose awesome, different cake and dessert flavors.
@josevillaworkshops is Jose Villa's official Instagram account for his wedding photography workshops. He works with AMAZING wedding cake artists, jewels, floral designers, wedding stylists, and the like. You'll get ideas for breathtaking details.
@casadeperrin is all table scapes, and they're GORGEOUS.  You can get great ideas for table setups and place settings.
@dawnkellyphotography – Of COURSE you should follow ME!  I post unique wedding and engagement photos, wedding tips, and inspirational quotes.
Instagram is a really fun platform, so have fun with it! If you have any questions or want more tips, comment below!
Modesto Wedding Photographer
Dawn Kelly Photography, specializing in unique, elegant, timeless wedding and portrait photography