I met Jonas and Tatjana when we worked a Yosemite elopement together. They're a wonderful wedding video team. I loved their personalities and the way they worked. We worked so symbiotically that I knew when I built my Yosemite Elopement Team, they had to be on it. Our clients have absolutely loved their videos and have only glowing things to say about their experience.
Q: How long have you been in business, and what got you started?
A: We've been in business together since 2016. Jonas has been active in the wedding industry since 2010. He went to video production school and was interested in video storytelling. From there he fell in love with the atmosphere of weddings after second shooting (video) for the first time for a fellow peer. Jonas then convinced Tatjana to utilize her photography and video skills in weddings.
Q: What was most attractive to you about starting in this field?
A: The most attractive thing about starting in this field was the fact that there's endless possibilities of being creative. Venues are different, parks are different, and most importantly – couples are different from one another.
Q: What schooling and training do you have?
A: Jonas studied digital filmmaking and video production at The Art Institute of California- Sunnyvale and received a bachelors of science. Tatjana has a graphic design associates degree from the same college as well as training in film photography & digital photography at West Valley College in Saratoga, CA.
Q: What is your "Why?" in your business? What gets you out of bed in the morning? What are you most passionate about?
A: What gets us out of bed in the morning is the fact that we get to educate our couples on what it means to "capture their legacy". When we get on calls, answer emails, or meet with our couples, we go over strategic ways to bring about the good nature of their friends and family at their wedding without it being forced. We're passionate about capturing things as they are and that's more exciting to us than posing or staging things at any given wedding or elopement.
Q: What is your mission statement?
A: Legacy Weddings & Elopement is a photo & video company who focus on capturing candid, stunning, and elegant weddings and elopements in Colorado, California, and Hawaii.
Q: What intimidated you about the wedding industry?
A: Nothing. We were pretty confident from the get go because we were very excited to work with couples who were also excited to work with us.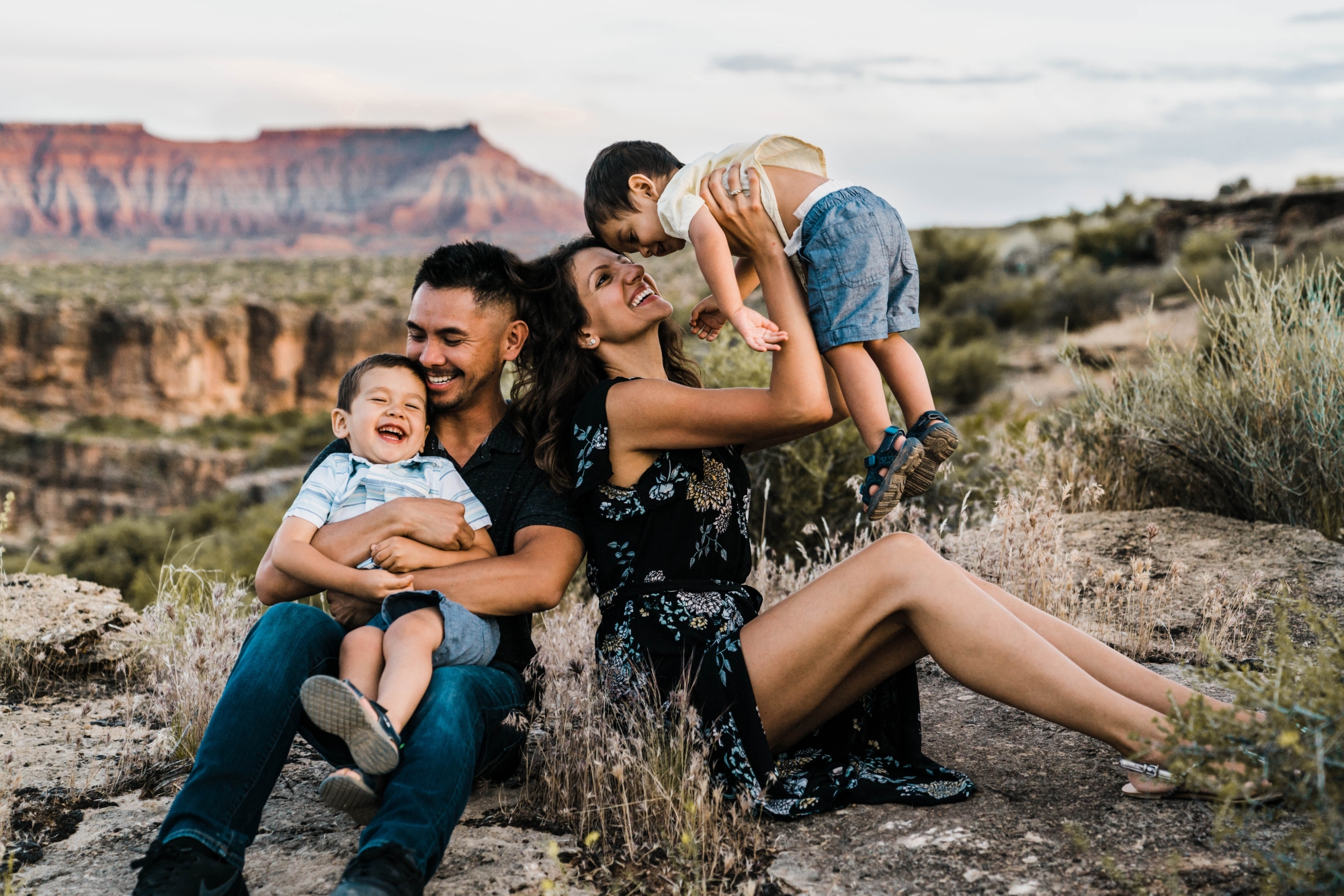 Jonas & Tajana with their beautiful boys
Q: What challenges have you had to overcome personally and professionally?
A: The biggest challenge thus far is finding balance between work, travel and family life. With two growing little boys (currently 1 & 3) we had a difficult time sacrificing their time with work/travel time. Now that we have a good grasp on our traveling schedule, we are pretty excited for our future because the balance between work, travel, and family are all coinciding.
Q: What types of jobs are your favorites? What size and style of weddings do you typically do?
A: We love the creativity part of it. More specifically- when we get to do camera exercises on the spot with the couple, their friends and family. We limit one big wedding (more than 200 guests) per year. But we average a size of less than 100 guest count per wedding. As for the style of wedding, we love the mountain weddings in Colorado, elopements in national/state parks in California, and family-driven weddings in Hawaii.
Q: Explain your ideal client.
A: Our ideal client are two lovebirds who are willing to express their emotions on camera and has an appreciation for nature.
Q: Explain a situation where you successfully solved a problem while working a wedding.
A: Other than covering the ceremony/group photos for a photographer who had pneumonia in Yosemite National Park? I kid, I kid! (That was me, Dawn!!) In all our time in weddings (this includes Jonas' time in the industry before ours) we can honestly say that 99% of our couples are on top of their wedding/elopement. We make sure that we only take on clients who are very serious, self-reliant, and responsible. Certain criteria has to be met during our initial conversation with any couple and if we sense there is any doubt with the couple, we simply do not allow them to book. On our end during planning, there is endless preparation to cover the worse.