I've known Summer since 2004 when we were in the same beauty school class. I remember the first day I saw her. She was so quiet and shy that for a long time, no one really noticed her. She was only 18 and I was 28, and I quickly took her under my wing. We became friends, eating lunch together and chatting while we styled our creepy doll heads. After we graduated, we lost touch. Several years later she bought a custom vintage coffee table I had painted and decopaged with vintage VOGUE magazines, and our friendship was rekindled.
Time marched on, and I watched Summer grow from a quiet girl fiddling with makeup and photography to an amazing, strong, outspoken, fierce, kind business woman. She's been my rock star hair and makeup artist on my Yosemite team from the beginning. She also does all the hair and makeup for our Vintage Eclectic photo shoots. She's an incredible artist and woman, and it's my pleasure to introduce her to all of you!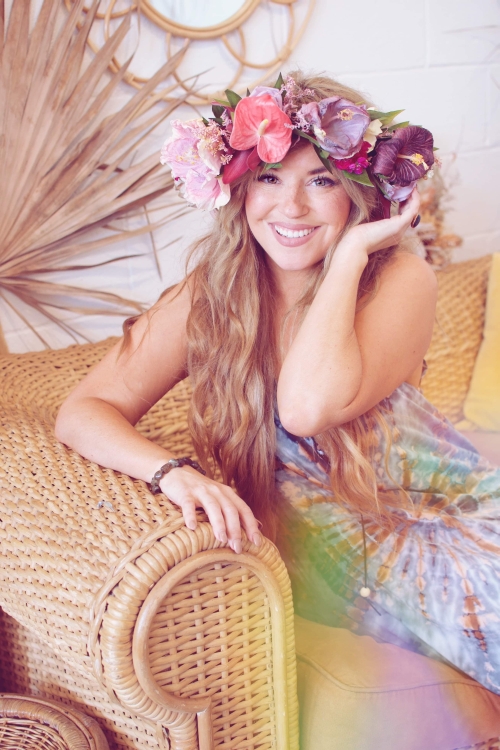 Q: How long have you been in business, and what got you started?
A: I started out enrolling in beauty school back in 2004 when I was 17. I knew I loved hair and makeup but I had no idea what that looked like as a career. I definitely did not anticipate that I would evolve into a wedding professional and still be going strong 15+ years later!
Q: What was most attractive to you about starting in this field?
A: At first it was as simple as I enjoyed doing my own hair and makeup. After the first time I got my hair colored I thought "I can totally do this." Little did I know that I would end up not having a passion for color AT ALL! Years into my career I started doing more and more weddings and events which sparked  passion in me that I didn't have before!
Q: What schooling and training do you have?
A: I went to cosmetology school and got my license, and I have extended training with celebrity artists in both hair styling and makeup.
Q: What is your "Why?" in your business? What gets you out of bed in the morning? What are you most passionate about?
A: I believe that your wedding day is a giant moment in your life never to be forgotten, and on that day you deserve to look and feel drop dead gorgeous. To me it is such an honor to be the artist of choice because the bride trusts me and that is something I take very serious. My passion is to enhance your beauty with a look that flows with your dress and overall wedding vibe, while still making sure it is all true to you. The subtle look in their eye (sometimes a big reaction) of confidence when the client looks in the mirror keeps me going and remembering why I do what I do!
Q: What intimidated you about the wedding industry?
A: Of course everyone fears the Bridezilla! Will I get one? How many will I get? How awful will she be? But I can honestly say that most of my brides have been amazing! I truly believe your vibe attracts your tribe because I have found that to be true in my business. Especially as of lately!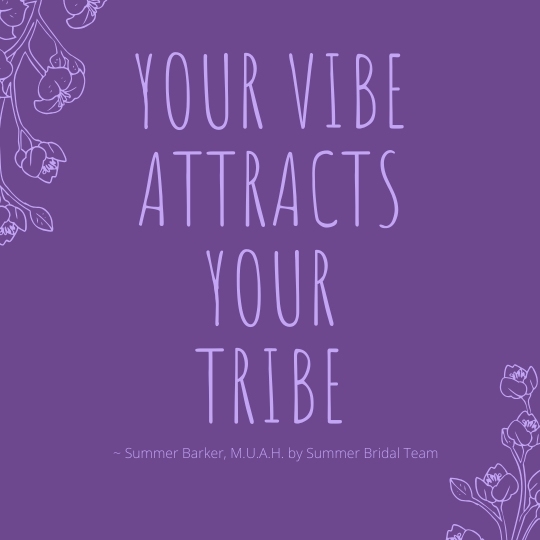 Q: What challenges have you had to overcome personally and professionally?
A: I used to deal with pretty bad anxiety; sometimes it was crippling. A lot of time I would get it while I was on the road, and being a traveling artist, there is just no avoiding that. The more I faced my fears and had such awesome clients that made me WANT to face my fears, the anxiety almost completely went away. I also dealt with a horrible break up. Like Jerry Springer horrible. Like I need my own Netflix documentary series horrible. Though I was dealing with tremendous depression, life HAD to go on. I looked forward to doing weddings during this time because I could disconnect from my reality and service others. Working in Yosemite brought healing and peace as I know it does a lot of people. The more I healed, the stronger my love for Yosemite got and the more my bookings increased! Yes, your service providers are human and deal with shit just like the next person!
Q: What types of jobs are your favorites? What size and style of weddings do you typically do?
A: All weddings can be beautiful but I especially love my non-traditional brides. I am the owner and lead artist of my bridal team so I actually have nine artists total, ready to serve large parties or intimate elopements!
Q: Explain your idea client.
A: My ideal client is animal-loving, non-traditional, not overly-romantic but appreciates a timeless look. She is a boss babe with a love for nature. And did I mention animal lover?! I volunteer with an animal rescue when I'm not doing weddings so fur children are near and dear to my heart!
Q: Explain a situation where you successfully solved a problem while working a wedding.
A: Oh man, I could tell the story about how I was only hired to do hair and helped a women sharpie her brows because it was all that she had (she accidentally did not pack her makeup) and needed help making them look natural. It was a brown sharpie! Come on I would NOT contribute to sharpie brows! But I'm gonna dive into the time that I was helping another artist on one of her jobs for HER BRIDAL TEAM (not our job) and she straight up went into early labor the morning of the wedding. Yes, you read that right. At 3am I was pulling strings to get one of my artists to help me, contact the bride and the planner (which was not my job since it wasn't my client), through all the chaos still show up on time, deal with a very stressed out bride, duplicate the makeup look that the pregnant artist was supposed to do on the bride and finish as close to original finish time as possible. Sometimes life throws you a curve ball and you gotta act quick but I always prepare myself for the "what if"!
Q: Tell us about your animal rescue journey.
A: I have always had a passion for both fur babies AND the beauty industry. When I am not hanging out with you making you feel beautiful on your wedding day, naturally I am volunteering with a local animal rescue. I have fostered 38 dogs so far, numerous litters of kittens, a 3 legged cat, a baby bunny and a litter of opossums. Sometimes these animals find me on the street. Sometimes I am led to them in horrible conditions. Other times we pull them from the shelter when they are on death row. It's bitter sweet to whole-heartedly love an animal and hand pick their furever home for their final chapter of life, but I am honored to do it. #adoptdontshop